Why I quit Fiverr after less than 72 hours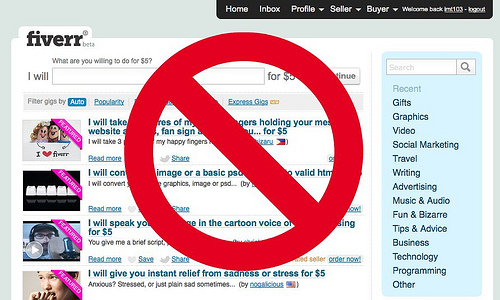 So on Saturday, I was reading Niche Pursuits and getting ideas for how to build up a niche URL I own, when I decided to look into the possibility of having content written for me. One of the sites I found for this was fiverr.com, which I signed up for immediately after browsing around for a bit.
I liked the concept of the site and decided to test it out by listing a gig of my own before actually hiring anyone. I wrote a gig offering my services in setting up my favorite WordPress shopping cart plugin, the WordPress eStore Plugin.
This morning I received two automated emails from Fiverr:

And a few minutes later:
I certainly had NOT "provided or offered a direct payment to another user" or "posted your PayPal email address," so I was pretty confused. Since both of these emails came from noreply@, I knew that responding to them would get me nowhere, so I clicked through to their site to try to get more information.
I found their Customers Support link at the bottom of the page and sent them the following message:
"Hi, I just received a warning regarding "provided or offered a direct payment to another use" but I have no idea what you are talking about. Can you please tell me what exactly I did that caused this warning?"
And here's how the customer service ticket played out:
First CS response email:
So basically I asked "what does XYZ mean" and the response was "it means XYZ". Ugh.
Since he didn't help at all, I decided to try to figure it out myself. Because the only interaction I'd had with the site was the one gig I listed, I figured something I wrote in the gig must have been the problem. So I log into the site and find my gig and click it, only to get this:

Nice. Total user experience fail.
So since I could get nowhere on my own, I replied back to the CS guy:

Then the second useless reply came back from CS: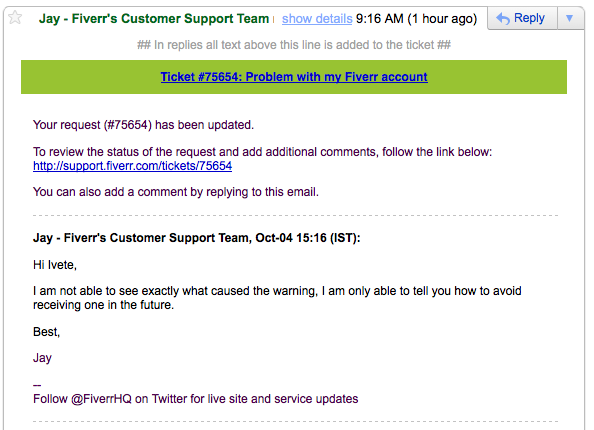 Frustrated, I (idiotically) tried again:

For some reason I was still surprised that the next CS email was completely useless too: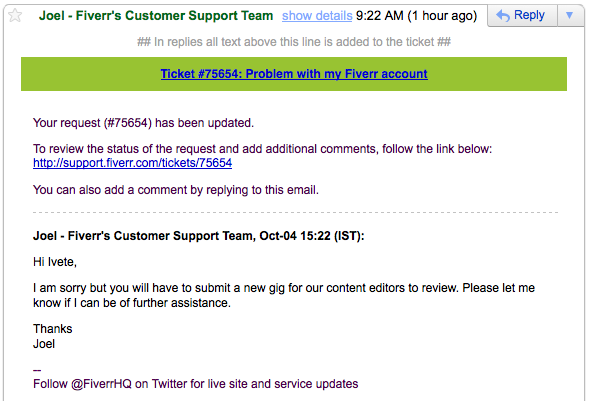 Not only did he completely ignore my question, he told me to submit a new gig without being able to see what was wrong with my original gig. That's real helpful. It'll be real easy to submit a new gig without making the same mistake again now.
At this point I was so annoyed that I sent back this bitchy reply:

I then started typing out this post, and went back to the site to try to cancel my account.
Guess what? There's no way to cancel an account on Fiverr! Just adds insult to injury.
I settled for changing my account email address to cancelled@cancelled.com.
When I returned to my email a bit later, I was surprised to see another reply from the CS agent: